Tucumcari Bull Test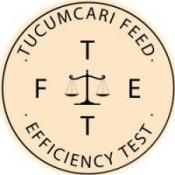 The 2017-18 Tucumcari Bull Test looks to be the biggest and best test yet! The Tucumcari Feed Efficiency Test LLC (TFET) purchased two additional GrowSafe® feeders this summer. As a result every bull tested will have specific intake data and a Residual Feed Intake (RFI) value. This value is paramount in helping producers select truly efficient bulls. With this addition, the test facility now has a one time capacity of feeding and testing 160 bulls.
The group of cooperators has grown as well. We are currently feeding 160 bulls from 21 different producers across the states of New Mexico, Texas, and Colorado. Cattle are born and raised in the tough arid conditions that make them ready for your country. This year we five breeds to choose from: Angus, Hereford, Charolais, Braunvieh, and Red Angus.
If weather, time, or distance prevents you from attending this year's sale, we will broadcast the sale live online through DVAuction.

Marcy Ward, Bull Test Director
Extension Livestock Specialist
Cell: 575-644-3379
Email: maward@nmsu.edu