Tucumcari Bull Test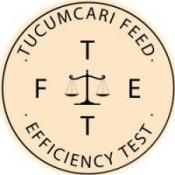 The 2016-17 Tucumcari Bull Test will go down as the largest bull test to date at the Tucumcari Feed Efficiency Test station.
Supported by the NMSU Tucumcari Ag Science Center, 155 bulls started the test. Bulls averaged 3.84 lbs of gain per day, with an average end weight of 1128 lbs. This is only 6 lbs lighter than the 2016 test (end wt. 1134), but with 50 day younger calves. For those bulls whose intake was measured using the GrowSafe® System, feed efficiency showed improvement in 2017. For example, in Group A, efficiency averaged 5.37 lbs feed/1 lb gain (F:G), compared to Group A in 2016, with an average of 6.1 F:G.
One hundred and twenty-six bulls were selected by the 16 participating producers to participate in the 2017 Tucumcari Bull Test Sale. Only the top 85% (100 bulls) performing bulls finally made the "sale ring". Sale management was changed to better meet the needs of the buyers and reduce stress in the bulls. All bulls making the sale were sold via their video, versus live in the sale ring. This allowed the sale to progress more efficiently, and buyers were able to leave in an organized and timely manner. Over 150 people were in attendance at this year's sale.
Marcy Ward, Bull Test Director
Extension Livestock Specialist
Cell: 575-644-3379
Email: maward@nmsu.edu