Cornerstone Ranch, Inc.
Cornerstone Ranch, Inc.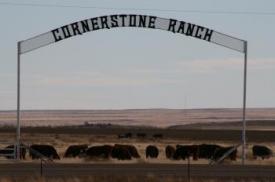 Leslie and Glenda Armstrong
Kevin and Renee Grant
616 Pecan Dr.
Ft. Sumner, NM 88119
(575) 355-2803 (Armstrong)
(575) 355-6621 (Grant)
E-mail: cornerstone@plateautel.net
Website: http://cornerstoneranch.net


Cornerstone Ranch, Inc. is located north of Fort Sumner in DeBaca County and north of Ruidoso in Lincoln County. Elevations in DeBaca County range from 4200 to 4700 and 6800 to 7200 feet in Lincoln County. The Lincoln County portion of the ranch is located in the Pinon-Juniper foothills. The DeBaca County acreage is mostly rolling plains with rocky canyon areas. Grama, bluestem, drop seed, and needle grasses provide the majority of forage. We feel our dedication to constantly improve our cattle registered with TRL portrays our ultimate goal-- TOP RANGE LAND cattle.
The history of this operation is rooted deep in New Mexico's history. LaMoyne Peters came from a long line of cattle ranchers. His great grandmother and his grandmother both raised cattle in Lincoln County. When LaMoyne's father was orphaned at 13, he lost control of these cattle but maintained the Bar E X brand assigned to his grandmother around 1889. Seed stock for the present commercial Hereford herd was bought in 1924 by LaMoyne and Gilbert Peters. With the conception that you didn't want your brand spread around locally, a second brand of L P Slash was acquired around 1940 to be used on bulls sold locally. In 1941, LaMoyne married Opal Jones whose father owned an adjoining ranch. They received a few cows from Opal's father as a wedding gift. By investing a large portion of the money made from the cattle, more land has been acquired over the years.
In 1976, the first irrigated farm was purchased in DeBaca County. In 1979 another larger irrigated farm was purchased. Alfalfa hay could now be raised for the Lincoln County cattle. Alfalfa and small grain hay is now being marketed. In 1978, LaMoyne's daughter, Glenda, her husband, and children became actively involved in the farming and ranching operation. At this time, a third brand of L C Bar was acquired to use on the registered cattle. The registered Hereford herd was slowly established with constant vigilance for quality.
In 1999, the first ranch in DeBaca County was purchased with proceeds from land sales in Lincoln County and presently four generations live and work for the Cornerstone Ranch which was formally organized and named in 2000.
In order to continue growing and diversifying the operation, registered Angus Cattle were added to the operation in 2003. The same careful consideration to genetics is being used to build the herd of Angus cattle. Currently, 175 registered Hereford mother cows and 45 registered Angus cows provide the base for the select 40 bulls that are being sold annually.
In 2004, another ranch was purchased that allowed for a sizable herd of commercial Hereford, Angus, and black baldy cows to be established. In 2007 Tim Unruh was employed to manage the commercial herd. The average cow on the ranch weighs about 1200 pounds and is about a 5.5 frame score. The two registered herds provide the bulls for the commercial herd. Careful record keeping is used to provide accurate EPD on all registered cattle. Such great bloodlines as Grand Slam, JC MO LE, L1 Pacesetter, SC Classic, L1 Image, HH Home Builder, LH Summit, CRS Del Rio, as well as several Upstream Herefords and Churchill Cattle bulls have been used to build the Hereford cow genetics. Contributing to the development of the Angus cow herd are such sires as Conneally Freightliner, PAR Benchmark, TC Freedom, N Bar Emulation, TC Stockman, G 13 Structure, and BR Midland.
The Cornerstone Ranch, Inc. is owned and operated by LaMoyne and Opal Peters; Glenda and Leslie Armstrong; Renee, Kevin, Kyra, and Rhett Grant; Lynden Armstrong; and Tanya, Josh, Kenzie, and Kagan Bequette.