Grau Charolais Ranch
Grau Charolais Ranch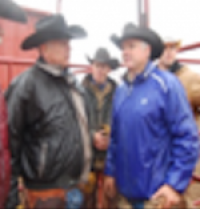 Lane Grau
1680 CR 37
Grady, NM 88120
(575) 760-6336
E-mail: tlgrau@hotmail.com


Grau Charolais Ranch have tested bulls at the Tucumcari Bull Test since 1963, starting with A.L. Grau. The Grau family has continuously ranched since homesteading in Grady, New Mexico, in 1907. Over 100 years of experience and knowledge have developed Grau Charolais Cattle.
Today, Lane continues the tradition of his father, testing high quality Charolais bulls from a premier herd of bloodlines that bring predictability and performance from line bred genetics. Grau Charolais cattle have succeeded in every segment of the cattle business including;
excelling in the show-ring, championships in three countries: Mexico, Canada and the USA and the National Western Stock Show's Pen of Three Bull Show
honest, dependable and functional seed stock cattle for commercial producers
numerous excellent carcass data reports and high quality dna results
Consistency, predictability and quality has kept Grau Charolais at or near the top of the Tucumcari Bull Test every year. Our cattle's progeny will optimize your calf crop, and increase your profit potential. Give us a call for your PROFIT MAKERS!!!!!