J-C Angus Ranch
J-C Angus Ranch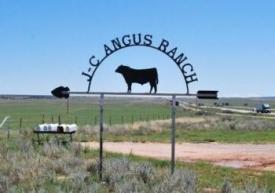 John and Cathy Heckendorn
Children: Rebecca, Sarah, Joshua and Caleb
75-A Pueblo Rd. N
Moriarty, NM 87035
(505) 832-9364 home
(505) 379-8212 cell
E-mail: john@jcangus.com
Website: http://jcangus.com


John and Cathy (J-C) purchased the registered cows from the family ranch (B&H Ranch) in 2002 and started J-C Angus Ranch, realizing a lifelong dream of raising their children in an agricultural environment and continuing the development of what will become, God willing, one of the elite Angus herds in the country.
We have worked hard to constantly improve our genetics since 1980. In 1985 our pen averaged 3.25 lbs. per day of gain and it took 828# of feed per 100 lbs. of gain. J-C Angus Ranch's pen in 2003 averaged 4.91 lbs. per day and converted 555# of feed per 100 lbs. of gain. Performance testing bulls every year for 30 years will make you a believer in EPDs, however EPDs are only a tool and while they tell you what an animal SHOULD do, Bull Tests tell you what they DID do.
Regardless of how fast everyone THINKS their horse is or how good their cattle are-- there is a reason why we still have horse races and bull performance tests!
After testing bulls and observing the test for 30+ years, we have observed that the fastest growing calves are almost always the most feed efficient. In 2012 the slowest gaining Angus pen converted at 7.66 lbs. of feed per lb. of gain, while the highest gaining pen, from J-C Angus, converted at 5.28 lbs. OVER 30% LESS FEED! There appears to be a very high correlation between rapid growth and efficiency of feed conversion and studies show a 70% correlation between feedlot efficiency and cow efficiency on pasture.
Would saving 30% on feed and/or pasture usage be of benefit to you?
We hear a lot of discussion and talk about cow efficiency based on assumptions of "metabolic energy requirements" based on cow size/weight and extrapolated milk production and assumed energy requirement estimates based on weaning weights, or weaning weights relative to cow weight as an indicator of efficiency. It all sounds very scientific and could be true, but are the assumptions correct? We do not advocate extremely large cattle or raising dairy cattle on our native range, but rapidly growing cattle seem to be the most efficient from observations of actual data, and selecting for low YW EPDs as some advocate seems to be counter productive in increasing efficiency. There are cattle that grow rapidly without getting too large as far as mature weight.
Our desire is to produce cattle that improve profits and efficiency for area ranchers, focusing on Fertility, Calving Ease, Rapid Growth, Feed Efficiency, and Carcass Quality. We pray that our cattle work as well for you as they have for us, and we greatly appreciate and thank past buyers who have invested in J-C Angus genetics.