Mead Angus
Mead Angus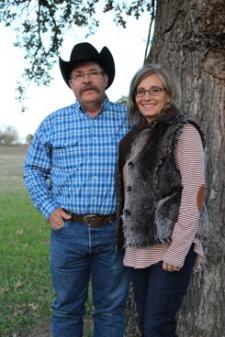 Regan and Melissa Mead
Hartley, TX
806-576-6523
melissa.mead@co.hartley.tx.us
Mead Angus is a family owned and operated Angus business, located in Hartley, Texas and San Jon, New Mexico. We continue to build on the Angus foundation that was started by Regan's parents, Bob and Joanne Mead, over 50 years ago.
We improve our heard every year, to meet the needs of our customers, through AI and selection of cows and heifers to raise bulls and heifers that will work for you, here in our Southwest environment. We continue to keep low birth weights with fast growing easy keeping calves that are raised in San Jon, New Mexico.
The bull we are offering you this year is an AI product out of Coleman Charlo 0256. He had an actual birth weight of 55 lbs., a weaning weight of 804 lbs., and a yearling weight of 1103 lbs. He has an ideal structure and good disposition.
We thank you for attending the Tucumcari Bull Test in 2017, and we do appreciate your business.