Sanchez Angus Cattle
Sanchez Angus Cattle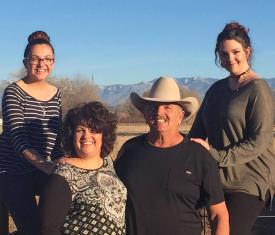 Patrick and Theresa Sanchez
57 Jose I Garcia Rd.
Belen, NM 87002
505-385-2994
sanchezangus57@yahoo.com
Sanchez Angus Cattle & Farm is located in Los Chavez, New Mexico, five miles north of Belen, 4728 feet above sea-level. Sanchez Angus is owned by Patrick and Theresa, along with their two daughters, Brianna and Arianna.
Sanchez Angus has been raising cattle since 1998, at which time, Patrick started with commercial Angus and Hereford cross. The sire used was a Traveler Angus from Capitan, New Mexico, producing first generation Baldy calves that were in high demand within the commercial cattle market. In 2000, Sanchez Angus had the #1 selling commercial Angus bull sold at Valley Livestock Bull Sale, just south of Albuquerque.
In 2006, we started breeding registered Angus. Sanchez Angus has been competing in the NMSU Tucumcari Bull Test since 2009. In 2012, on the 50th Anniversary, we were honored to win the Tucumcari Bull Test with the high gaining and high indexing Angus Bull. A son of B/R Future Direction 6171 had a 5.10 ADG and an overall index of 112.6. In 2015 we were again honored to have the top indexing bull (PS Emblazon 1478) in the Angus division in Tucumcari out of a natural sire, EXAR Emblazon 1010. This bull had an impressive index of 120 and sustained an ADG of 4.83 lbs. The Sanchez Sire Group out of Exar Emblazon 1010 proved to be a consistently strong group of bulls, with the highest ADG at 4.32 and ratio at 110.7, WDA 3.46 and ratio at 111.7, and overall index of 108.6.
Our goal as a seed stock producer is that our cattle will be genetically sound, moderate framed, easy calving, grow rapidly, and breed back. Our cattle are bred to be efficient, with their carcasses yielding tender, high quality beef. At this year's Tucumcari Bull Test, we currently have 14 bulls on test. After 58 days, a son of Exar Resistol 3710B is gaining an impressive 5.6 lbs. a day, and as a sire group these Resistol calves are at 5.15 pounds ADG. This year, we will be calving out of AI sires, Haynes Outright, Exar Resistol 3710B, SAV Bruiser, and out of our high indexing 2015 natural sire, PS Emblazon 1478.
The cattle graze primarily on a ranch seven miles southwest of Moriarty, 6500 feet above sea-level; which consists of open range and native grass. Sanchez Angus has been blessed with the success of the cattle it has raised, and would like to thank our past and future buyers. Sanchez Angus will continue their efforts to produce Angus cattle suitable for the southwest and other parts of the country.