Diamond G Ranch
Diamond G Ranch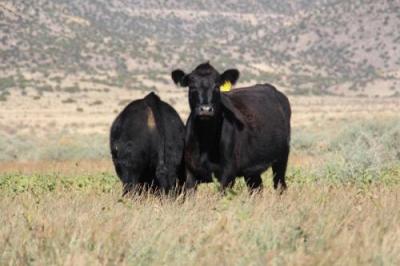 Maggie Woodbury
P.O. Box 402
San Rafael, NM 87051
505-290-5642
mg3berry@gmail.com
Diamond G Ranch is a family owned and operated ranch located at the base of Mount Taylor, near Chief Rancho, New Mexico. It is approximately 60 miles west of Albuquerque and is currently being managed by the youngest of the brothers Chris Gutierrez.
The ranch was purchased by our parents in 1964, with the intent of keeping their twelve kids busy, and busy it has kept us. My oldest brother tells the story of the first group of cattle purchased, being a group of Hereford cows that could escape any kind of fencing (this was the day of the 4ft rail fence). Over the years we have had many different breeds of cattle, with varying degrees of success.
Our dad was not much of a "cattleman", but was an avid steward of the range and other natural resources. He and his eight sons built miles of fence, developed springs, laid miles of pipe, designed dirt tanks, and built berms and such for erosion control. Over the years, forage production on the ranch has improved significantly, as has the quality of our cattle.
For 20 plus years, we have used the Bar T Bar Ranch genetics and have had great success. It is safe to say that our females are very fertile, productive animals that will excel in any type of environment! We have maintained a consistent breeding percentage averaging approximately 90% or better. The cattle are efficient grazers and hold their condition well, the weaning weights have averaged from 550-600 lbs. the past few years and the cattle have been successful in every aspect.
Diamond G Ranch
The Gutierrez Family
San Fidel, New Mexico