Lust Angus
Lust Angus Ranch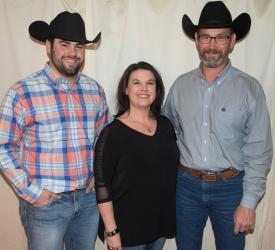 Tim, Lea and Dru Lust
2946 IH 27
Abernathy, TX 79311
806-438-3127 Tim
806-831-6777 Dru
806-757-2116 Home
lustangus@sptc.net
Lust Angus started in Lazbuddie, Texas as a part of Hinkson Angus which was founded by my grandfather, Frank Hinkson, Sr. in 1959. The registered herd was started to raise bulls for the family's commercial herd on a ranch on the Arizona-New Mexico border.
The ranch was rough, dry country, and these bulls needed to have a little more performance than what most breeders were raising at the time. The bulls had to travel long distances to breed cows, so they had to be sound on their feet and legs. The goal then is the same as the goal now; to raise Angus cattle that work for the commercial cattleman in a real world environment.
Today Tim, Lea, Dru, Taylor, and Gryder Lust run about 120 registered cows near Abernathy, Texas. My father Glenn, in "retirement" at 86, continues to take care of the cattle on a daily basis. We continue to focus on using the top AI bulls in the industry and embryo transfer to continue to improve our herd. We specialize in raising gentle, low birth weight cattle with as much muscle and carcass quality as we can get with moderate milk and good fleshing ability. For many years, Hinkson and Lust Angus had the top performing bulls at the Tucumcari bull test. Just as our family tested bulls 30 years ago to determine our top gaining genetics, we are excited to be back and testing our bulls for feed efficiency. We are honored to deliver bulls to ranches each year that we have been selling to for decades. We look forward to starting new relationships with new customers as well as our program continues to expand. We work hard to produce genetics that will help you increase the profitability of your herd.
*We have a 1-year feet and breeding guarantee on all of our bulls. Along with free delivery up to 350 miles.