Miller Angus
Mitzi & Dink Miller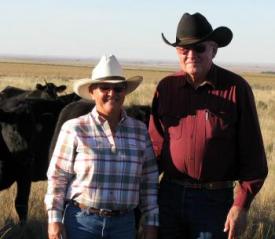 Dink and Mitzi Miller
174 NM 236
Floyd, NM 88118
575-760-9047 Mitzi
575-760-9048 Dink
575-478-2398 Home
d-mmiller@yucca.net
Our headquarters are located three miles north and ¼ west of Floyd, New Mexico. The elevation is 4,060' above sea level. We raise cattle in the Floyd area and north of Ft. Sumner, New Mexico.
We have been raising registered Black Angus cattle for 33 years and have had an AI program in place for 32 years. Our mission is to raise docile bulls that will produce quality, pounds, dollars, and pride for our customers.
We strive to raise fairly low birth weight bulls that have good weaning and yearling weights with moderate milk, and whose female offspring become excellent "mama" cows. Docility has been very important to us in picking herd sires. We are always improving the EPDs, but not necessarily "chasing the EPD numbers". Our goal is to improve genotypes, but all the while maintain "eye appeal".
We have six bulls in Tucumcari this year that are out of Miller Total 542, a bull we raised out of TC Total 410. This bull has excelled in genomic traits; he has 21 of 25 genomic markers above average in the Angus breed. He has 18 markers in the top 20% or better in breed and 12 markers in the top 10% or better. He is in the top 10%WW, top 5% YW, top 2% RADG, top 20% SC, top 20% Doc, top 4% Marbling, top 10% $W, top 3% $F, and top 2% $B.