PD Angus
Patrick Sanchez & Del Conroy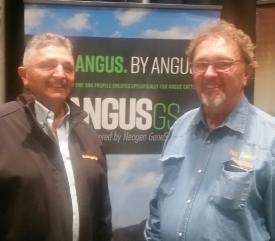 57 Jose I Garcia Rd.
Belen, NM 87002
505-385-2994
sanchezangus57@yahoo.com
Patrick and Theresa Sanchez and his brother, Del, and Frances Conroy began raising cattle over 20 years ago as a commercial producer, providing quality first-generation Black Baldy steers and heifers out of Belen and Los Lunas, New Mexico in Valencia County. Sanchez Brothers Cattle Company, also known as PD Angus, was established in 2016, raising registered, high-quality Black Angus cattle.
The goal of PD Angus as a seedstock producer is to raise cattle that are genetically sound, moderately framed, and easy calving. We desire for our cattle to grow rapidly and breed back with emphasis on feed-efficiency, with carcasses yielding tender, high-quality beef.
One of our Angus bulls will be tested at this year's 2019-2020 Tucumcari Bull Test. This bull was sired from a Sanchez Angus Bull - PS Emblazon 1478. 1478 was the high indexing bull in the 2015 Tucumcari Bull test where he had a final index of 120, a weaning weight of 829, and a yearling weight of 1,437. He was a member of the high gaining, high WDA, and Overall Index Sire Group, His first son tested was the high selling bull in the 2018 sale after posting a birth weight EPD of -0.7, and adjusted weaning weight of 848, and a yearling weight of 1,470.
As seedstock producers, we are dedicated to continuing the development of cattle that will thrive in the southwest climate. PD Angus has been blessed with the success of the cattle it has raised, we give thanks to its past, present, and future buyers.