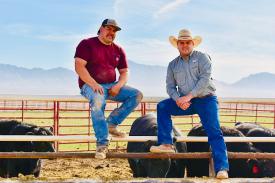 Established in 2015, Reyes Cattle Co. is located in Anthony, New Mexico. Reyes Cattle is a family-owned and operated organization dedicated to registered Black Angus.
Our herd was hand selected from some of the top Angus breeders in the area. With our strong AI breeding program, our goals are to produce easy calving, high weaning and yearling weights, as well as docile Angus. In mid-2017 we took our program to the next level by starting our embryo transfer program and purchasing top embryos from Baldridge Bros. out of New Platte, Nebraska. We strive to improve the genetics of our herd in order to provide our customers with the most progressive genetics possible.
We are excited to be a part of the Tucumcari Bull Test. This gives us the opportunity to test our bulls alongside other great Angus producers. Customer satisfaction and long standing relationships is what Reyes Cattle Co. is all about.
Jason and Justin Reyes
1301 N. Oregon, Suite 300
El Paso, TX 79902
Phone: 915-253-2883
Email: reyesbuilt@gmail.com