TL Cattle Co.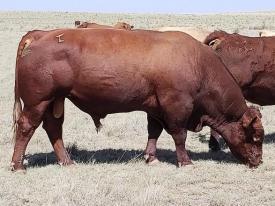 Colten and Lane Grau
Grady, NM
575-760-6336
Colten and Lane Grau started TL Cattle 25 years ago and jointly own the TL connected brand. The brand is Lane's first and middle name initials. Starting with Angus and Angus-Maine crosses, they began selling excellent black bulls 23 years ago and continue to do so. They have used Hobart, Traveler, Tree Lane Maximillion, and Friction bloodline among other sires. These cattle have made nice, functional, powerful and well balanced bulls, females and show steers.
About five years ago they bought a set of Red Angus heifers and started raising Red Angus and Red Angus composite females and bulls to offer private treaty year round. The reds are also the kind you want to have on your ranch. They are deep, sound, fertile and thick. Also well balanced and docile. The three bulls at this year's test are 1/8 Maine Anjou X 7/8 Red Angus. Put one of these good bulls to work for your operation and reap the benefits of hybid vigor on your cowherd; lines mostly Cherokee Chief.