Triple A Farms & Ranch LLC
Jacob and Robert Archuleta
P.O Box 302
El Rito NM, 87530
505-929-0640 - Jacob
505-695-6504 - Robert
wedocowboy@hotmail.com
Triple A Farms & Ranch LLC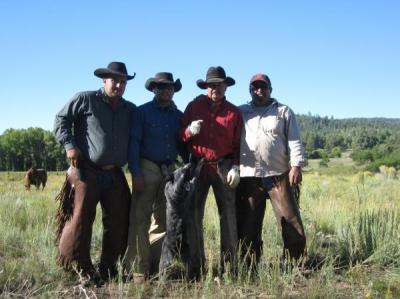 Triple A Farms & Ranch LLC, is located in El Rito NM, we are third Generation ranchers and have primarily raised commercial angus influenced by registered bulls. We have recently ventured partially into the registered industry in hopes of learning the management practices and market value registered livestock offers.
The vision of Triple A Farms & Ranch LLC, is to grow and produce a high quality, genetically proven registered herd that can withstand the harsh weather conditions of Northern New Mexico. Our grass roots and generations of experience raising commercial cattle in the high elevations of Northern NM are ideal and proven credentials that have prepared us to meet our vision.
In 2002, we purchased a few registered cows and kept one bull of this herd to influence our commercial herd. We have been using registered bulls on our commercial herd since. In 2017, we purchased our second set of registered stock from Pulliam Angus Ranch in Montrose, Colorado. Since 2018, we have continued to learn the unique ways of raising a registered Angus heard. We continue to learn and grow from other local leading leaders in the industry. Miguel Salazar from Salazar Ranches continues to be a mentor and advocate to our success in the business.