Tucumcari Bull Test & SaleMarch 14, 2020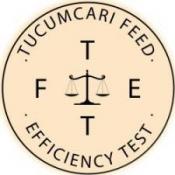 The 57th Annual Tucumcari Bull Test is under way! We have 148 bulls on this year from 22 cooperators from New Mexico, Texas, and Colorado. The Angus, Braunvieh, Charolais, Hereford, and Red Angus breeds are being represented once again. New to the test this year will be Salers. K4 Cattle Company (Hereford, TX) brought seven Saler bulls to the test, rounding out a nice diverse set of quality calves.
Weaning weights were very good coming into the test; averaging 668 lbs. Average daily gain is up strongly versus last year. As a result, all calves are a good 30 pounds heavier at the 28 day mark of the feed test. A Hereford from Cornerstone Ranch (Fort Sumner, NM) is leading the test with an astonishing 6.25 lb per day gain. This impressive bull will be one to watch this season. Not far behind is an Angus bull from Lust Angus (Abernathy, TX). Test number 10-4 is also gaining 6 lbs per day!
Our partnership with Tucumcari Feed Yard has allowed us access to a consistent high quality diet. This all natural mix contains corn silage, distillers grain, ground corn, and whey protein. The ration is high in roughage (over 40%) and low in starch. The performance from the bulls demonstrates their genetic potential and true efficiency in converting feed to gain without additives or a high amount of grain in their diet.
At the conclusion of the test, we will have individual intake, efficiency, Residual Feed Intake, and performance values available on every animal! The data generated at the station since the installation of the Growsafe feeders clearly shows a direct correlation between a low RFI value and a reduced cost of gain. Negative RFI bulls generally save our producers $1.17 per day at the station. These bulls have the potential to save you money and stretch your forage, by passing on these efficiency traits. You can't manage what you don't measure! We are the one of only bull suppliers in the entire state of New Mexico that can provide this important information on every bull sold.
Superior Click-to-Bid
Sale Videos
Bid and Buy the Superior Way!