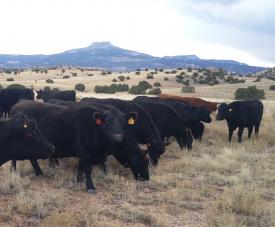 As a fourth generation cattle rancher, born and raised in Chili, New Mexico; I come from a commercial cattle background and wanted to blaze new trails by starting my own registered herd of Black Angus and Horned Hereford cattle. In 2003, Salazar Ranches purchased our first Angus from Stevenson Basin and High Valley Angus, and Herefords from OXO Herefords and West Star Herefords.
Since then, Salazar Ranches has increased herd size by utilizing AI, and hopes to implement an Embryo Transfer program. There is a strong focus on maternal traits. One of the most important selling points of our herd is the powerful set of females we raise. It takes great cows to produce great bulls and replacement females.
Salazar Ranches is unique to most seedstock breeders in New Mexico, as we run cattle in high-altitude from May 15th through December 1st. Altitudes range from 6,000 to 10,500. In 2013 we started PAP testing bull and replacement females.
You are always welcome to come visit Salazar Ranches operation, located in Northern New Mexico.
Over the last several years, we have participated in the Tucumcari Bull Test and Midland Bull Test in order to see how our genetics compare to other top breeders from around the western United States. Salazar Ranches is pleased with the results and are confident our livestock will perform in any environment, in both commercial and purebred operations.
Miguel Salazar
Phone: 505-929-0334
Email: salazar_ranches@yahoo.com