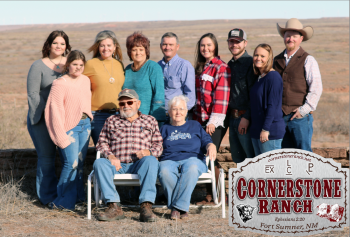 Cornerstone Ranch is a family owned and operated ranch located in Fort Sumner, New Mexico. One hundred twenty-five registered Hereford mother cows and 100 registered Angus cows provide the base for the select 40+ bulls that are sold annually and provide the sires used in the commercial herd. Of these bulls, a select group of Hereford and Angus have been taken to the Tucumcari Bull Test for the last several years. In 2020, Cornerstone had the top three High Indexing Hereford bulls. In 2014, Cornerstone Ranch had 3 of the 4 top indexing Hereford bulls as well as the Top Indexing Bull of the 2014 Test.
Although Cornerstone Ranch was formally organized and named in 2000, that was not the beginning of the cattle herds. LaMoyne Peters came from a long line of cattle ranchers. His great grandmother and his grandmother both raised cattle in Lincoln County. When LaMoyne's father was orphaned at 13, he lost control of these cattle but maintained the Bar E X brand assigned to his grandmother around 1887. Seed stock for the present commercial Hereford herd was bought in 1924 by LaMoyne and Gilbert Peters. In 1934 the first registered Hereford bull was bought. It was the Grand Champion bull at the Eastern New Mexico State Fair Open Livestock Show shown by Shaddock's of Carlsbad, New Mexico. The price of this bull was equal to approximately the price of 12 calves. This bull was the beginning of selling bulls. Cornerstone Ranch standards for selecting herd sires have not changed.
We are proud to be a part of this program to improve our cattle and provide a "cornerstone" for our buyers.
Kevin and Renee Grant
Kyra and Justin Monzingo
Leslie and Glenda Armstrong
Phone: 575-355-6621
Email: cornerstone@plateautel.net; cornerstoneranch.net