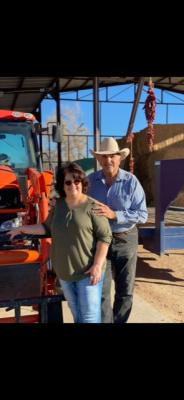 Patrick & Theresa Sanchez began raising Registered Angus cattle over 15 years ago, and have been performance testing bulls at the Tucumcari Bull Test for the past 13 years. We have been blessed to have the top indexing bull in 2011 and 2015, and have had many in the top ten over the years.
The goal of Sanchez Angus, as a seedstock producer, is to raise cattle that are genetically sound, moderately framed, and easy calving. We desire for our cattle to grow rapidly and be fertile, while emphasizing feed-efficiency and carcass merit, yielding tender, high-quality beef. We are dedicated to continuing the development of cattle that will thrive in the Southwest climate. Sanchez Angus has been blessed with the success of the cattle it has raised. We give thanks to past, present, and future buyers.
Our bulls this year are out of J-C Loaded 1846. This son of Connealy Armory was one of the top performing bulls on 2018-19 test in Tucumcari. He gained 3.97 (ratio 111.4), and converted at 5.48 lbs of feed per lb of gain (ratio 121.9). He combines exceptional calving ease (top 20%) and BW (top 10%) with impressive growth (YW top 40%).
11-1 bull's dam is out of PS Emblazon 1478. He competed and won the 2014-15 Tucumcari Bull Test with the highest index of 120. He had the second highest ADG of 4.83, ratio of 123.8, along with the highest WDA of 3.94 and ratio of 127.2. He was a member of the highest gaining and WDA sire group that year. He had a weaning weight of 829 and yearling weight of 1,437. He is out of one of the best cows we have owned, a great daughter of Mytty in Focus.
11-2 bull's dam is out of PS Outright 10X 704. This bull was one of the top ten indexing bulls and gained 4.67, ratio 118.32, a WDA of 3.36, ratio of 102.9 along with a feed conversion of 4.52 lbs of feed per lb of gain, and a ratio of 123.6 resulting in an overall index of 114.5. J-C Angus used this bull and has several sons on test this year. After 60 days, they are his high gaining sire group. He is a moderately framed bull with exceptional thickness, muscle, and eye appeal.
This year's bulls are genetically stacked for performance and are performing well, with an average daily gain of 5.29 after 60 days. They are the 2nd and 3rd high gaining bulls so far. Their feed conversion has been excellent with an average feed to gain of 4.14 and ratio of 117.6.
Patrick and Theresa Sanchez
57 Jose I Garcia Road
Belen, NM 87002
Phone: 505-385-2994
Email: sanchezangus57@yahoo.com