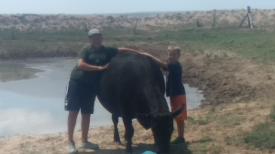 Located just 80 miles from Kansas and 100 miles from the Oklahoma state line, Riverside Angus is based at the confluence of the Arkansas and Purgatoire Rivers on the high plains of Colorado, where rain and grass are rarely abundant. Because our cattle are raised in this tough environment and are forced to get out and make their living off the land, we feel that they have the potential to maintain themselves well, if not thrive in almost any environment.
After raising commercial cattle since the early 1990's, in 2005 we bought our foundation 40 registered cows from the Larson program at Sharon Springs, Kansas after looking throughout the country for a set of uniform cows we could buy that were based on good bloodlines that we thought would work in our area. Fifteen years later we have used AI extensively and Embryo Transfer on a limited basis, to try to develop a maternally based cow herd that produces calves that will gain and grade and make money in this business, where the profit margin seems to get thinned every year.
We very much appreciate your time and consideration in looking through our bulls and look forward to visiting with you the morning of the sale or anytime prior to sale day by calling 719-980-5075. Thank you and may God bless you and yours.
G5 | This easy calving, moderate framed bull will make some heavy milking, good replacement females as he's in the top 4% of the breed for Milk and the top 15% of the breed for the $M value at 71.
G37 | He got sick shortly after getting to the test and I think that affected his performance to some degree. His dam is a product our ET program and is one of three big broody flush sisters that resulted from a set of five embryos we bought from Leonard Newman's embryo production program in Indiana. This bull should be another maternal giant as his genomic profile indicates he will be at least in the top 5% for Milk, Heifer pregnancy, and $M.
G43 | This deep and square, moderate framed Bronc son brings a ton of calving ease and growth to the table as he's in the top 15% of the breed for both weaning and yearling weight. Couple that with his dam, whose blood traces to Connealy Consensus and OCC Echelon and he has the makings of being a real solid bull.
G45 | This is one of our smoothest, best made MGR Treasure calves and we thought enough of him to bring him for your consideration. MGR Treasure offspring have been in high demand and we used him again this fall and spring for his ability to produce easy calving, well made calves that grow and finish like we hope they all will.
G63 | One of four bulls out of our walking sire LAR Steadfast 7184, who topped the Larson sale in 2018 at $7750, we think this young bull will be a cow maker, with a $M value in the top 10% of the breed and a Heifer Pregnancy EPD in the top 3%.
G67 | Super calving ease in this smooth bull with both his Birth Weight and Calving Ease Direct EPDs in the top 10% of the breed according to his genomic profile. His calves should also do well on the rail as his Angus GS test showed him to be in the top 15% of the breed for both Marbling and Fat.
G69 | I thought long and hard about keeping this young stud to cover my heifers this year and would be interested in semen on him if you have him collected. He was a standout from birth and turned out even better than we could have hoped for. We picked up his dam at the Sandpoint Dispersal and think she could easily be the best cow we bought that day. Easy calving and a ton of growth as well as being dog gentle are just a few of the attributes this bull possesses.
Alex and JoEllen Netherton
Sons: Cody and Evan
11579 Co Rd. FF .75
Las Animas, CO 81054
Cell: 719-980-5075
Home: 719-456-0714
Office: 719-456-0200
Email: alex_colo_75@yahoo.com
Website: riversideangus.com