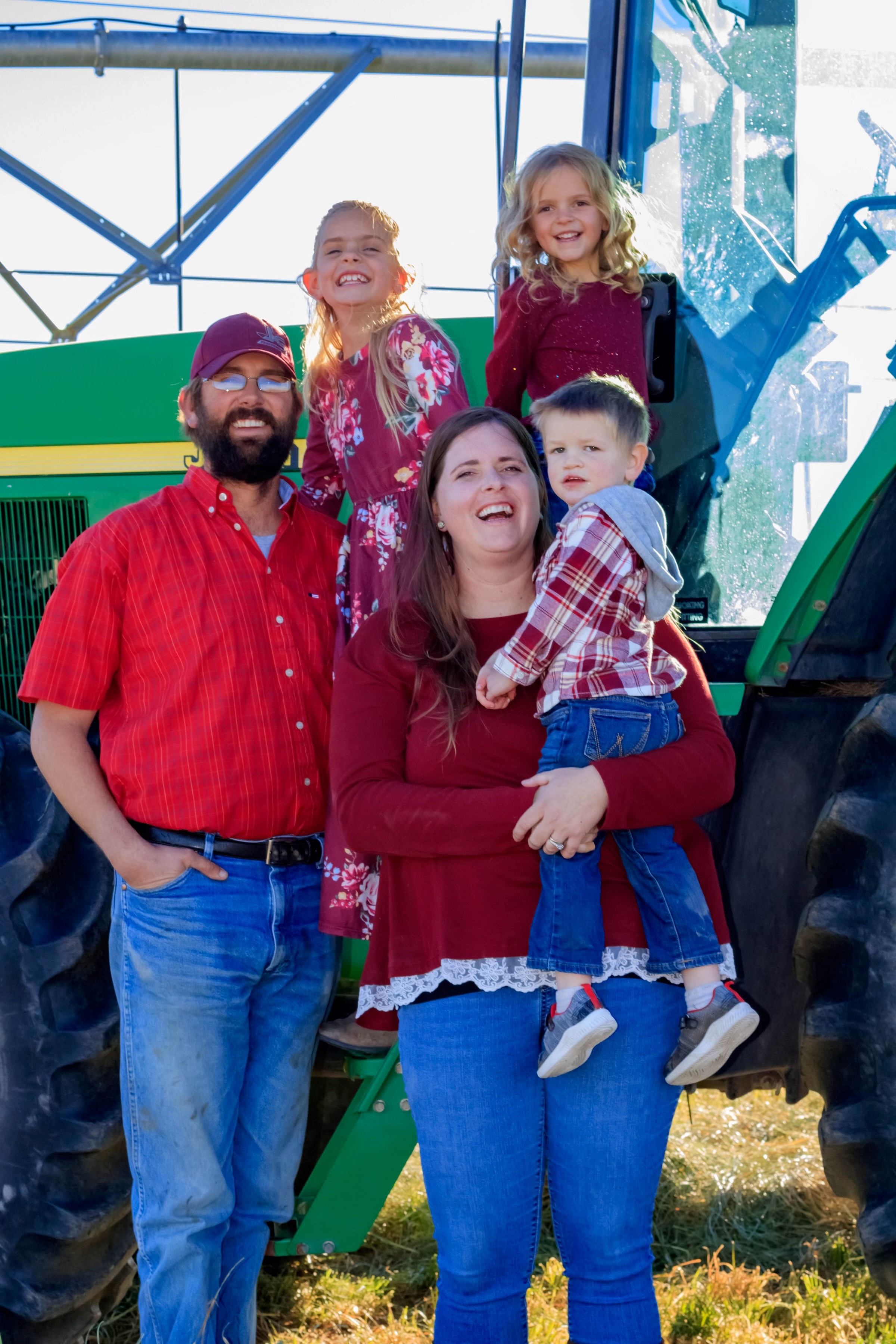 Valigura Simmental is owned and operated by Jordan and Amy Valigura out of Estancia, NM. We have 3 kids: Autumn (8), Aubrey (5) and Theodore (2) and have been farming and ranching out here for the last 11 years. We believe that there is no better way to raise a family than on the farm and we are thankful that God allows us to do it! We started breeding registered sim/angus bulls in 2017 that we purchased out of southern Colorado from very close friends, Robert Campbell out of Ignacio and Jake Pargin out of Center.
We believe that not all cattle are created equal and this is why we have decided to get involved in the Tucumcari feed efficiency test. We believe that not all cows eat 3% of their body weight and therefore strive to have a 1300 pound cow that is efficient and eats like a 1000 pound cow. Simmental/Angus cross bred cattle are very healthy and annually produce high weaning weight calves, because after all we are paid by the pound. Focusing heavily on calving ease direct, weaning weights, and carcass characteristics we have seen these cows perform year after year. Our herd is managed by our family and since we run on smaller acreages have to be moved often and therefore the cattle are very docile. We calve out on wheat every spring and in doing so our birth weights are higher, but we feel that it is because of their environment.
We at Valigura Simmental are very excited to be starting a new endeavor with the Tucumcari feed efficiently producers! We will be moving towards a completely registered simm/angus herd in the coming years. We are working closely with J-C Angus Ranch (Moriarty, NM) and we feel with their efficient New Mexico cattle, in combination with high altitude Simmental/angus, is going to make the perfect addition to your herd. We are excited to acquire new customers and would like to be as accommodating as possible so please feel free to reach out to us with any questions or concerns!
*We stand behind our bulls. If you have any problems we will do everything reasonable to make it right. If delivery is needed please let us know and we would be glad to assist you.
"And whatever you do, in word or deed, do everything in the name of the Lord Jesus, giving thanks to God the Father through him." Colossians 3:17
Jordan Valigura
Estancia, NM
Phone: 505-280-9192
Email: autumgrace918@icloud.com