60th Annual Tucumcari Bull Test & Sale March 12-13, 2021
Online Bidding Opens
March 5, 2021 | 9 am
DVAuction Video Catalog

Welcome to the 60th Annual Tucumcari Bull Test Sale.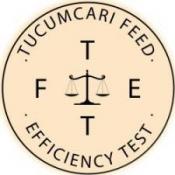 With the contribution of the participating producers, Tucumcari is one of the longest standing and progressive bull tests in the country. Between the pandemic and drought, producers have gone through a lot of challenges.
True to form, our producers have adapted and the Tucumcari Bull Test has adjusted its sale format. Our goal is to provide a safe and convenient option for our customers.
Bull videos are available and online bidding began March 5th via DVAuction.
The Rex E. Kirksey Agricultural Science Center at Tucumcari opens to the public on Friday March 12th at 10 am. Customers are welcome to look at the bulls, visit with producers, and with the help of our staff, place their bids.
On Saturday, March 13th, we will once again be open to view, visit, and bid from 10 am until the sale closes at 2 pm. Once all sales are finalized, buyers may pick up their bulls after 3 pm on Saturday.
Since the sale is open for several days, buyers can preview the bulls and data from the comfort of their homes. Take the time you need to make important purchasing decisions and stay within your budget without having to make split second decisions, as with traditional auction sales.
All lots will open concurrently and are available for bidding. Pick your favorites and don't wait for them to come through a sale ring. If you are new to online auctions, we invite you to come to the station on March 12th or 13th and we will assist you through the process.
As an added convenience, we have extended our delivery service.
Our participating producers continue to bring top genetics that can improve the performance and efficiency of your cow herd. We hope you will join us in person or online to take advantage of another great set of performance proven yearling bulls.
Due to Covid-19 program restrictions, all visitors will be expected to comply with the NM DOH Public Health Order.
Marcy Ward
Bull Test Director
Cell: 575-644-3379
Email: maward@nmsu.edu