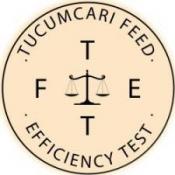 UPDATE: Contemporary Grouping for 2017-18 Bull Test
With the addition of the new Growsafe® feeders and new pen configuration at the TFET test station, new ratio and indexing formulas have been established to best evaluate bull performance.
We are currently testing 126 Angus, 6 Braunviehs, 16 Herefords, 8 Charolais, and 2 Red Angus. Given the odd distribution across breeds within pens, the growth performance ratios will now be based within breed across the entire barn. Feed efficiency, however, will be ratioed within pen. The final test index will be made available the last week of February.
The justification for this is weather conditions are the most varied between the first 60 days of the test to the last 60 days.
The following formula will now be utilized to calculate test index:
Test Index = .35 (ADG BREED Ratio) + .35 (WDA BREED Ratio) + .3 (Feed Efficiency PEN Ratio)
112-Day Report
60-Day Report
We are seeing tremendous rates of gains across breeds. Leading the Angus this month is Test 11-3, Salazar Infinity 703. Owned by Salazar Ranches out of Espanola, NM, this calf has been gaining a whopping 6.17 lbs per day!
The top Braunvieh is owned by JR Hall Cattle Partnership, Hedley, TX. Bull 9-3 is currently gaining an impressive 4.3 lbs per day. We have 6 Braunviehs on test this year, all of which are of great quality!
Test 5-8 is a Charolais bull owned by Netherton Angus, currently leading that breed with a gain ratio of 113.1.
Abercrombie Ranches have the high gaining Hereford bull thus far in the test. Test 3-5 is gaining 4.16 lbs per day!
Test 18-2 is currently leading the WDA race at 3.47. From Sanchez Angus, this calf is out of one of their top herd sires, PS Emblazon 1478. Not far behind in the Angus division is 20-4. Owned by Running Water Land and Cattle Company, Bovina, TX this bull is carrying a WDA of 3.46. The 9-3 bull is once again at the top of the Braunvieh group for WDA; at 3.02. Again, Netherton holds the top spot for Charolais, but with a new bull in the mix, 5-2. This calf has a WDA of 3.17. Abercrombie Ranch bull 3-4 is leading the Hereford division for WDA with a ratio of 114.
We are at the halfway point of the feed efficiency evaluation component of this year's test. Early leaders are really blowing the doors off so far! Test 6-6 from Riverside Angus, Las Animas, CO has outstanding conversion numbers. Currently, this bull only needs 3.65 lbs of feed to achieve 1 lb of gain. He also carries an almost unheard of -6.0 RFI value! Keep your eye on Riverside Onward E14 as he is the one to beat!
Others that are showing impressive efficiency numbers include 20-5 from Running Water Land and Cattle Company, gaining 4.88 lbs per day with a F:G of 4.11 and an RFI value of -2.75. Test 4-15 rounds out the Top 3 for efficiency, with a F:G of 4.16 and an RFI value of -2.12. This bull is out of McCall Land and Cattle's large bull offering this year.
30-Day Report
We have a tremendous set of bulls this year-- even in the heat of Indian Summer we have bulls gaining well over 5 lbs per day and converting on less than 4.5 lbs of feed per pound of gain.
Bulls to watch over the course of the test are from Netherton Angus and Riverside Angus.
The top gaining bull for the first 29 days on feed is bull 5-1 from Netherton Angus gaining a whopping 6.28 lbs per day; already weighing 940 lbs.
Hartzog Angus is also leading the pack for both efficiency and growth. Hartzog's 20-1 bull is gaining 6.00 lbs per day on less than 3.5 lbs of feed per lb of gain. Your cattle buyers and feeders will be happy to have truckloads of these kinds of cattle.