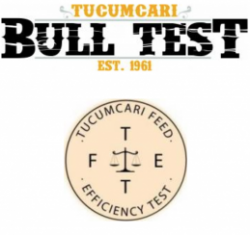 Angus: At the 60 day mark, the Angus bulls were averaging 3.88 lbs gain per day. At the 101 day mark this division is now averaging 4.01! Normally as cattle age, rate of gain slows. I guess these boys didn't read the manual. A true demonstration of depth of quality in the largest contemporary group, there has been yet another change in the leader board. Lust Angus bull 10-18 hit his gear with a sustained ADG of 5.09! Out of Hinksons Hickok T17 7203, this stout gentle bull has a very good chance of winning the test this year. Not far behind is 11-1 from Sanchez Angus. Out of J-C Loaded 1846, he has been in the top 3 the entire test and is tipping the scales at 1355! Efficiency will be the driving factor as to which of the 91 bulls in the end will win this very competitive division.
Braunvieh: All 7 Braunvieh bulls entered in this year's test were raised by J Bar Braunvieh out of Hedley, TX. These bulls have a had a very steady and consistent gain average of 3.53 lbs per day. Bull 7-3 is out of J Bar Braunvieh's outstanding herd sires; JBB Badboys Dawson 528C remains the leader in gain at 3.93 lbs per day. After the ultrasound, true to the breed, this set of bulls will increase the ribeyes of your calves! Most of this group will have their feed efficiency data ready by the end of February, so stay tuned!
Charolais: Long time test participant Grau Charolais brought a very nice and uniform set of late March and April calves. True to the Charolais breed, these calves have a lot of growth to them and are getting ready to hit their gear! Averaging 1040 lbs each, they all are carrying the greatest WDA (3.23) over all 146 bulls being tested! This will translate into added pounds to your weaning pen! These bulls also carry great efficiency data and all have proven to have some of the lowest RFI numbers in the group!
Hereford: Three breeders round out the Hereford division. Cornerstone Ranch, Corn Herefords, and Salazar Ranches all have bulls representing the breed well. All three breeders now have at least one bull in the top five. Test bull 3-3 out of Corn's MC Trust 884 sire continues to lead the way with a sustained gain of 4.17 lbs. As a group, bulls are weighing a good 60 lbs heavier than last year and gaining a ½ pound more per day! The bulk of the Hereford division has yet to be feed efficiency tested. Stay tuned to see what this nice group of calves overall will do!
Red Angus: Duvall Ranches out of Lamar, CO have once again brought us a very cookie cutter group of 4. As a group, these calves are gaining 3.55 lbs per day. All are sired by DUV Domain 813, so very uniform in their look and performance. Bull 13-4 now leads the way in gain; averaging 3.74 per day. The 13-1 has proven to be especially good in his feed conversion; 3.75! The remaining three will have efficiency data very soon!
Salers: K4 Cattle Co., out of Hereford, TX has 8 Salers in the offering again this year. These rugged made easy going bulls can cover the roughest of country. Bull 18-4 continues to dominate with a sustained ADG of 4.44, a feed conversion of 4.07, and an RFI of -1.08. This bull should make a very nice set of efficient females to help stretch your grass! If you are looking to add growth and stamina to your calves, all of these bulls will fill that niche.
Shorthorn: COS Shorthorns were new producers to the test last year. Three of their bulls went to some of the roughest country in central New Mexico. The new owner says they are covering a lot of country and doing well! Bull 22-1 continues to have impressive performance, with a sustained ADG of 4.11. Out of Ash valley Marquis 5733, this bull is not only gaining over 4 lbs per day, but is doing so with only 4.35 pounds of feed to achieve it! With an RFI value of -0.94, this bull and his daughters have the potential to sustain about any drought conditions!
Balancers: New to the test ever are a great set of Balancer bulls from Diamond G Ranch, out of western New Mexico. If you have never used this breed before, they bring the fertility of Gelbvieh and the carcass and adaptability of Angus all in one package. New genetics with desirable traits could really show up in the weaning pen! Continuing to lead this group of 9 is bull 21-5, with and ADG of 4.51 lbs! Take your pick among the rest as they all are very uniform, moderate framed bulls that will suit about any program.
Red Angus Cross: We have two producers in this division. Boomhower Ranch from Russell, KS have four Red Angus X Hereford crossed commercial bulls TL Cattle also has two very nice 7/8s Red Angus X 1/8th Maine Anjou bulls. All of these bulls have WDAs of over 3 lbs and feed conversions under 5.4! The 19-2 brockle faced Boomhower bull currently leads the way with and ADG of 4.33 and conversion of 4.66. All of the Boomhower bulls are over 1100 lbs, and have the potential to make a great cross to provide growth and vigor. TL Cattle bull 6-1 has proven his efficiency as well, having the lowest conversion rate. His herd mate, 6-2 also has an impressive RFI of -1.42!